Nå kan vi se utvikling hver dag……
Valpene veide pluss/minus 400 gr da de ble født. Nå veier de pluss/minus 1,5 kg! Fra uke 2 til uke 3 la de på seg totalt rundt 4 kg – ikke rart at Tuva trenger mye mat for å opprettholde melkeproduksjonen

For noen dager siden begynte de å få fast føde – en blanding av fersk kjøtt, valpefôr og rå eggeplomme – spedd culturamelk. De første måltidene ble det mye søl, og lite spising, men nå begynner de å spise skikkelig!
De har også fått sin første ormekur, og har fått klippet alle klør for 3. gang. Det er mange klør som skal klippes!
Ida, vår lagotto som har hatt to kull selv, er blitt en skikkelig reservemor. Når Tuva er ferdig med sine "plikter" stepper Ida inn og steller og stuller med valpene. Hun holder valpekassen ren, og selv om hun er et matvrak til daglig så rører hun ikke maten til valpene. Jeg trodde ikke det var mulig for henne!
Saga viser også rørende omsorg for valpene. Hun tar sin daglige tur inn i kassen for å inspisere, og innimellom tar hun med seg en av lekene sine inn for å dele! Hun har nok ikke helt skjønt at det er litt i tidligste laget!
I dag har de også vært en tur inne på kjøkkenet etter at de fikk fast føde. Tuva lå på kjøkkengulvet og hva var vel bedre enn å få "desserten" i nye omgivelser.
Det er morsomt å observere hvilke valper som er litt "tøffe" og sjekker ut alt det nye, mens andre er litt mer forsiktige…..
Now we can see development every day….When they were born their weight was approx +/- 400 gr. Now they are approx 1,5 kg. No wonder that Tuva needs a lot of food to produce enough milk…
A couple of days ago we startet giving solid food, a combo of fresh meat, puppyfood, raw eggs and a spesial kind of milk. They have also had their first deworming, and all the claws have been cut for the 3.time.
Ida, our lagotto who has had two litters, is a perfect "ant". She does all the "heavy jobs", including cleaning the puppycrate! Even Saga, our 15 weeks old puppy is trying to bring here toys in to the puppies – I think she is a little bit too young to understand….!
Today the puppies have been for a quick trip into the kitchen – just to explore….It is interesting to observe how the different puppies react to new things.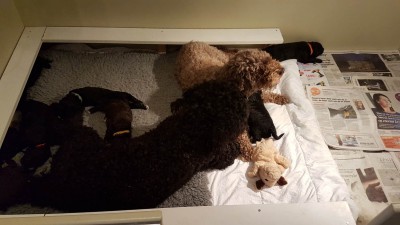 Ida og Tuva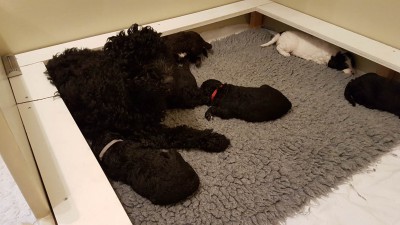 Her er det Saga som er på besøk (Here it is Saga who is visiting the puppies)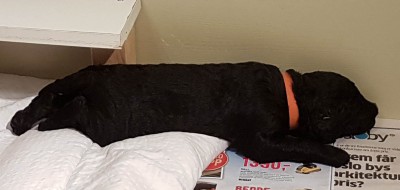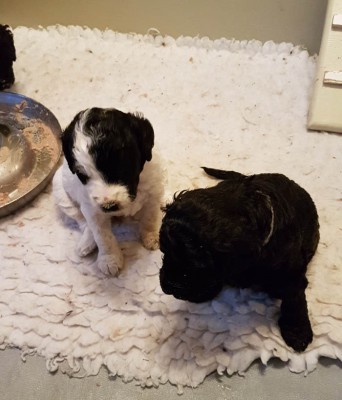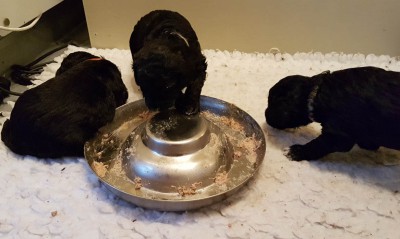 Endelig mat…..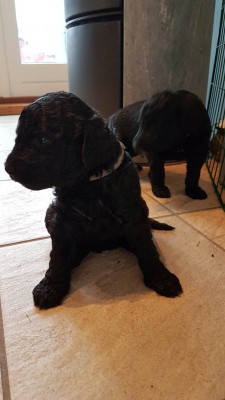 Ute på kjøkkenet for første gang….out in the kitchen for the first time….