Ja nå er det bare 8 valper igjen….Cava har fått ny familie og reist avgårde. Det er nesten litt symbolsk – hun var den første som ble født og den første som reiser hjemmefra. Hun har kommet til en stor og hyggelig familie som har tatt varmt i mot henne.
På fredag var vi på veterinærbesøk med hele gjengen. Bilturen gikk overraskende bra. Etter 5 minutter var det stille i bilen, og det varte hele turen. Alle valpene fikk sine vaksiner og ble chipmerket. I tillegg ble det tatt blodprøver av alle valpene som er sendt til Universitetet i Helsinki, Finland. Forhåpentligvis blir de brukt til forskning som kommer rasen til gode.
Valpene har også blitt bedre kjent med en av kattene våre, Morild. Hun har stålkontroll på hunder i de fleste situasjoner. Hun kan stå helt stille mens alle valpene kommer stormende mot henne. Så gjør hun en liten bevegelse og alle bråstopper og bare stirrer på henne.
Hun kan også ligge på en stol og når en valp er litt for nærgående så tar hun frem en pote (uten klørne ute) og gir den en dask på snuten – så var den saken løst!!
Emma har også tødd litt opp. Valpene er nå i ferd med å bli større enn henne, men hun gjør så godt hun kan med å sette seg i respekt! Ikke alltid lett med flere valper som biter seg fast i pelsen hennes og river og sliter…..
Vi har vært en tur til i skogen, og alle valpene er ute i hagen flere ganger pr dag. De har også fått sin individuelle tur med innlagt trening i å gå i bånd. Det går ganske greit her hjemme, men jeg tror det blir en større utfordring når valpene kommer i mer urbane strøk!
I løpet av helgen skal 4 valper til komme til sine nye eiere….
Now the puppies are more than 8 weeks old, and the first one has "left the building!. It is Cava – she was first born, and the first to leave us!
On Friday we went to the vet and had the vaccine and microchip done. It is a 20 min drive, and after 5 min they were all quiet…..and they stayed quiet for the hole trip!
The puppies are now familar with one of our cats, Morild. She is 8 years and very used to dogs in all ages and size. She has full control over the puppies. If th puppies try to hard to be friendly she just hits them over the nose with her paw (no claws) – and "problem solved"!
Our little Emma is struggeling with the puppies. She is more friendly, but it is not easy when 4 puppies are hanging in her fur, pulling and biting……
We have been out in the forrest again, and they are outside in the garden several times each day. It is cold, from zero to minus 6 degrees, but it does not bother them as long as they are running and playing.
During this weekend 4 more puppies are leaving us…..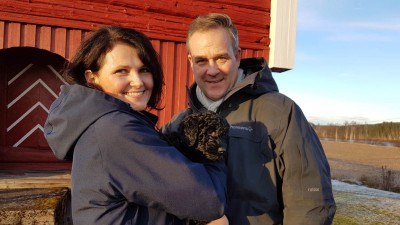 Cava med ny familie, Anne-Iren og Håkon / Cava with her new family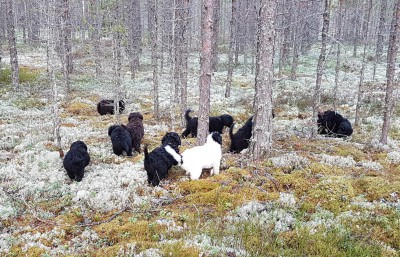 Ut i skogen / out in the forrest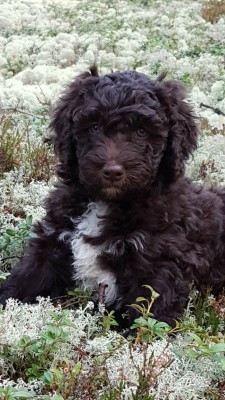 Coco i skogen/ Coco in the forrest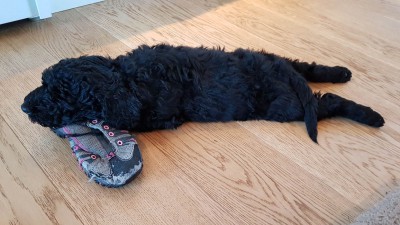 Cintra slapper av /Cintra is having a nap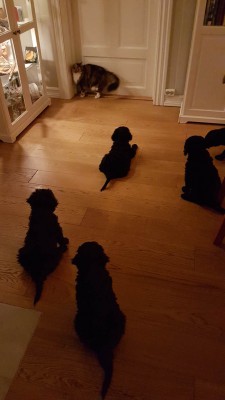 Morild med stålkontroll på valpene /Morild and the puppies..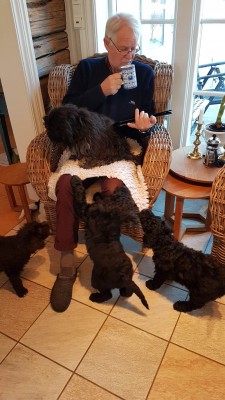 Noen ganger er det godt med et fang å sitte i…./sometimes it`s nice to have a safe place to sit in!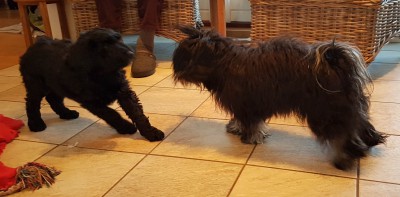 Emma setter seg i respekt /Emma demands respect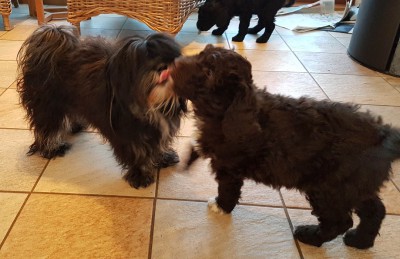 Og så er det tid for litt kos / and sometimes it`s good to be nice!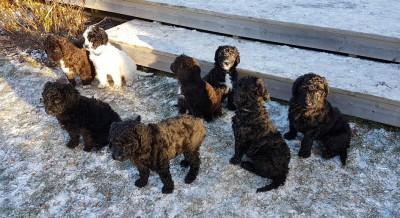 Ute i kulden /out in the cold
Cintra, Coira, Cher og Chiba